As of March 8, the Shanghai Futures Exchange's copper inventory was 163,025 tons, the LME inventory was 84,250 tons, and the COMEX inventory was 69,707 tons. The overall copper inventory was in a low range, and the commodity structure showed a weak near-end premium.
The recent excessively strong copper price needs time to digest, and the short-term copper price may be dominated by consolidation.
US Treasury yields rose sharply
In 2021, the yield on the 10-year US Treasury rose rapidly. As of March 8, it has risen from 0.93% at the beginning of the year to 1.60%. The most direct drivers of the rapid rise in US bond yields are as follows:
One is the $ 1.9 trillion stimulus package of the Biden administration. Its biggest highlight is the increase in one-time subsidies for individuals from 600 to 1,400 US dollars, and the increase in unemployment assistance from 300 to 400 US dollars per week, and the extension to September.
Second, the progress of vaccination in the United States has significantly exceeded expectations. According to US CDC statistics, as of March 8, 90 million people were vaccinated in the United States, accounting for about 30% of the US population.
Two major drivers have driven US Treasury yields to rise sharply. However, through the analysis of the dismantling of 10-year US Treasuries, it can be found that the recent upside is dominated by term premiums, while neutral interest rates have remained basically unchanged, and inflation expectations have risen rapidly. CICC expects the 10-year US Treasury yield to rise to around 1.8% by the end of the year. However, after experiencing huge gains, there is little room for the upside of the 10-year US Treasury yield in the market outlook. In this case, copper prices may naturally fall.
Copper mine disturbance may come again
The global copper mine production is concentrated in South America, accounting for about 43% of the world's total output, especially Chile and Peru.
In 2019, Chile's copper mine output was 5.8 million tons, and Peru's output was 2.4 million tons, accounting for approximately 30% and 12% of the world's copper mine output respectively.
In November 2020, a number of Chilean copper mines reached a preliminary agreement on the strike issue, marking the end of the copper mine disturbance caused by the new crown pneumonia epidemic that year. Generally speaking, copper mine disturbances are significantly related to the temperature in South America, which generally peak from May to June and bottom from November to December. Since the beginning of this year, the daily confirmed cases of new coronary pneumonia in Peru and Chile have continued to rise, especially in Chile, with 200 new cases per day, exceeding the level of May 2020.
It is expected that there will be another strike in South America in the next two months, driving copper prices upward. Investors are advised to focus on the South American epidemic.
According to statistics from ICSG, the world's copper mine output fell by about 0.2% in the first 11 months of 2020, of which the output of concentrates increased by 0.4%, and the output of electrical copper fell by 2.2%. In the first 11 months of 2020, global refined copper production increased by 1.8%, electrolytic copper production increased by 2.9%, and scrap copper production decreased by 3.1%.
Home appliance exports continue to accelerate
Against the backdrop of rising epidemics overseas, China's domestic exports of mechanical and electrical products are booming. As of February, the cumulative export value of mechanical and electrical products has accelerated year-on-year, at 64.75%. In the air-conditioning sub-item with the highest proportion of copper, as of December 2020, the cumulative export volume has increased by 13.90% year-on-year, and it is still accelerating so far.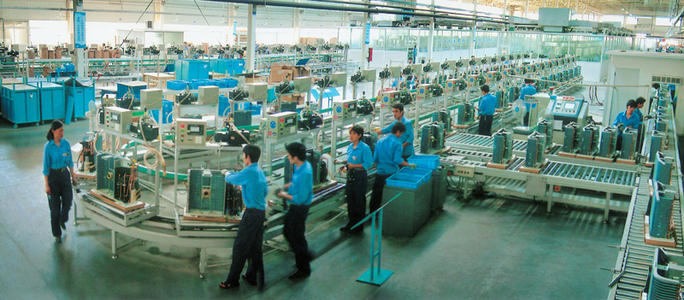 Air conditioning production has strong demand for copper pipes
Overall, copper consumption will still be dominated by China, and the overall growth momentum will be maintained. However, as grid investment is expected to return to normal, investment-led copper demand may be pessimistic. It is expected that overall copper consumption will expand moderately in 2021. International Copper Research Group ICSG data show that in the first 11 months of 2020, the apparent consumption of global refined copper will increase by 2.5%, with a supply shortage of 590,000 tons.
In short, inflation expectations have been fully reflected, the short-term copper price lacks an upward driving factor, or is dominated by consolidation.
Yunlan Metal supplies high-quality copper pipes and copper pipe fittings. If you have any needs, please contact info@winlandmetal.com
עד כה לא נרשמו כל תגובות למאמר Shanghai Copper's short-term high consolidation. רוצה להיות הראשון?
הנך נמצא כאן: Shanghai Copper's short-term high consolidation.